THE FIRST BLOG
Hello! Welcome to Black Isle Garden Design's first ever blog. We hope you will enjoy reading it and many more to come. Follow us through the seasons and years as we work and enjoy time at Old Allangrange.  The garden is always changing and evolving.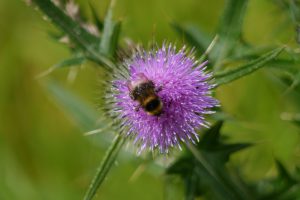 Weeds or wild flowers?
Have you ever considered leaving wild flowers in your garden or are you keen to eradicate those pesky weeds altogether?  At Old Allangrange we're fortunate to be able to leave generous areas to wild flowers. If you have enough space in your garden, consider putting an area aside for wild flowers.  It doesn't have to be big. Maybe you could let the grass grow longer so clover has a chance to appear.  How about allowing a patch of nettles develop.  Every little helps to provide habitat and food for pollinators and insects.
We generally consider weeds for their negative qualities rather than their positive ones.   Weeds and wildflowers provide food and vital habitat for beneficial insects, pollinators and birds.  Attracting pollinators is mutually beneficial, enabling plants to reproduce and in return giving a source of food for bees, moths, butterflies, insects and wasps.
The Gardener's friend
Weeds should be considered to be the gardener's friend. Take dandelions for instance: they attract adult hoverflies and one parasitic hoverfly larva is capable of eating 1,200 aphids.  Weeds also help to protect and feed the soil by providing it with good composting material and preventing erosion. 
Nettles
We all remember the unpleasant feeling of being stung by nettles as children but the common stinging nettle is one of the most important plants for wildlife. Native to the UK, it supports over 40 species of insects alone, including some of our most colourful butterflies, namely Red Admiral,  Small Tortoiseshell,  Peacock Comma and Painted Lady. The caterpillars of the Small Magpie moth like to feed on nettles and we have spotted it here, flying round the garden. Because nettle patches hold overwintering aphids which swarm around the fresh spring growth, they provide an early food source for ladybirds. These same aphids are eaten in large numbers by blue tits and other woodland birds agile enough to dart around the stems. You can 
Bird Food
The large quantity of seed produced in late summer is a source of food for many of our seed eating birds. Nettles are not only useful for insects, but can also be a food source for humans in the form of nettle soup and should be classed as a 'super' food as it is high in iron, calcium, potassium, phosphorus, silica, chlorophyll and vitamins C and D.. Why not try out our recipe? It is delicious and very easy to make. The best time to pick leaves, is before flowering in late May, choosing the newest, tender growth.
Nettle soup recipe
Melt 25g of butter with 1 tbsp of oil in a pan and saute a chopped onion, 1 carrot diced, 1 leek thinly sliced and a crushed clove of garlic until soft. Add 1 litre of stock and a large, diced floury potato and simmer for 15 mins until the potato is soft.  Add 500g of washed nettles to the pot, giving them 2 minutes to wilt.  Blitz, season and pour in 50 ml of double cream.  
Pretty wild flowers
Common bird's foot-trefoil is often known as 'eggs and bacon'. Its pretty yellow flowers provide food for the caterpillars of Slender Scotch Burnet and Six spot Burnet.  These are beautiful red and black moths.  Common Blue butterflies lay eggs on it too. Trefoil flowers are also a good source of nectar for bees. 
The lovely tall purple floral spires of rosebay willowherb provide an important habitat and food for the caterpillars of the Elephant Hawk Moth, a striking large moth with beautiful pink markings.  You may be fortunate enough to see one now as they emerge and fly between May and July. The Bedstraw Hawk Moth also favours rosebay willowherb and both bumble bees and honey bees adore the pretty flowers.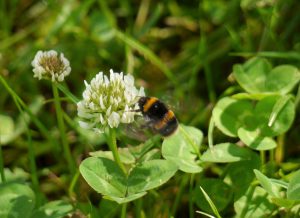 Greener grass
If you let your lawn grow a little longer than usual, you may find weeds like clover making an appearance.  By mowing around the patches you can create a much more interesting lawn whilst preserving the flowers for bees to feed on. Clover is a natural way to fertilise your soil, fixing nitrogen from the air, making grass greener.  The caterpillars of Common Blue butterflies feed on white clover.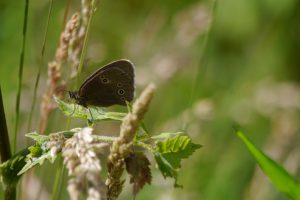 We were fortunate to spot this Ringlet butterfly in the Black Isle Garden Design garden at Old Allangrange. The favourite source of nectar for Ringlet butterflies is bramble and wild privet flowers. On a cloudy day, Ringlets continue to fly about, bobbing along happily when most other butterflies are inactive.  The caterpillars also like coarser grasses including Common Couch.
A thorny issue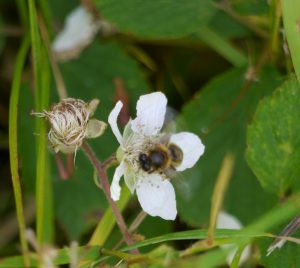 Brambles (as they are known in Scotland) or blackberries are probably one of the most wildlife friendly weeds so we should encourage them into gardens. They are a haven for all sorts of other creatures, not to mention delicious to eat! Peach Blossom moths lay their eggs on bramble and bees favour their flowers. Various animals, such as blackbirds robins, foxes and small mammals also enjoy eating the fruit which appears between August and October. The thorny, messy mass of this plant also provides a protective home from predators for many species of birds and small mammals.
Just think what you might find in your garden if you sit back and let those pretty weeds grow!
https://www.blackislegardendesign.com/wp-content/uploads/2018/02/bigdLogo-1.png
0
0
Kate Whitson
https://www.blackislegardendesign.com/wp-content/uploads/2018/02/bigdLogo-1.png
Kate Whitson
2019-07-30 13:11:14
2019-07-30 13:17:36
Encouraging weeds to flourish